I know that I just blogged about how I'm going to use up all my stash yarns and only reward myself with 100g of fiber or sock yarn for every 10 skeins I use and all that, but seriously, have you seen the indie dyers and their Etsy shops lately? UGH! It's like the world is telling me, haha you think this #DestashChallenge is going to be easyyy??
This one is THE Christmas yarn, don't you think? It's a really happy colorway, and it reminds me of Christmas gift wrapping papers, another thing I'm obsessed with.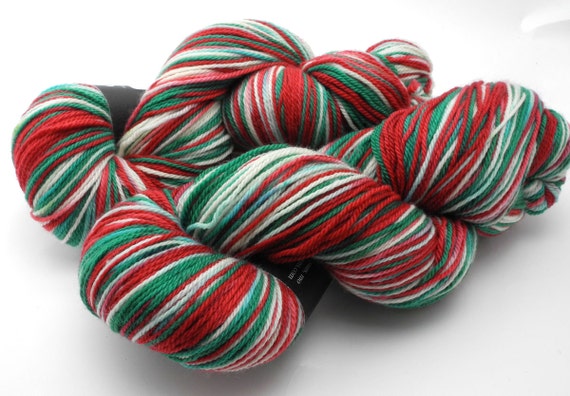 Christmas is Coming - Sturdy Sock (75% Merino; 25% Nylon) 4-ply sock yarn by Dyeabolical Yarns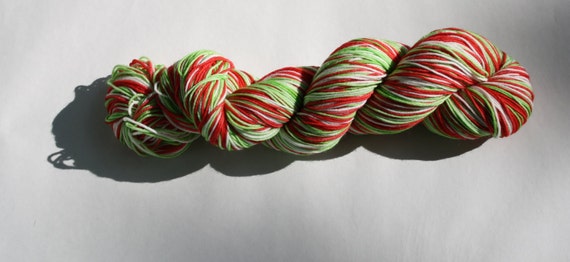 Holly Jolly Self Striping Tough Sock (75% SW Merino; 25% Nylon) by MintRain
Another really happy Christmas colorway. I love that the green here is lighter, almost like neon green.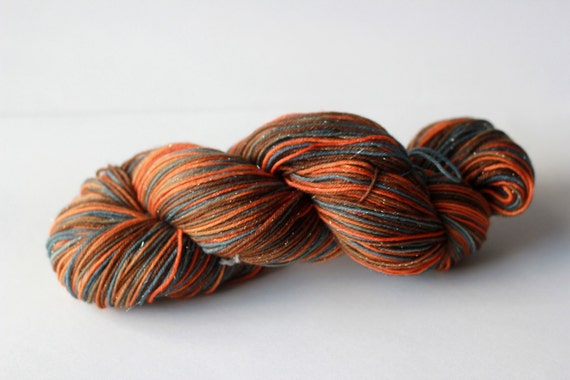 Autumn Night Sparkle (70% SW Merino; 25% Nylon; 5% Stellina) by Serene Fiber Arts
Okay, not exactly CHRISTMAS color, and it's named Autumn Night but to me this feels more like a dimmed room with a large fireplace on a cold winter night. Besides, I think whatever sock pattern you choose, the end result is going to look so toasty and warm and sparkly! I can't resist.
So obviously, I'm drooling over these yarns on Etsy, and wishing I had 5 pairs of arms, and enough brain capacity to knit up as much as I can to meet my next 10 skein goal. I just hope these yarns are available when I'm done with the first 10.