2nd week of my DestashChallenge! I'm happy report some great progress!
1) My friend's socks - 2 balls;
2) Marty's Sportweight Vest - 6 skeins;
3) Handspun Malabrigo Socks - 1 skein;
4) My Stripey socks (one sock done) - 1 ball
10 balls/skeins done!! This means I get a new skein of sock yarn!
So what did I buy?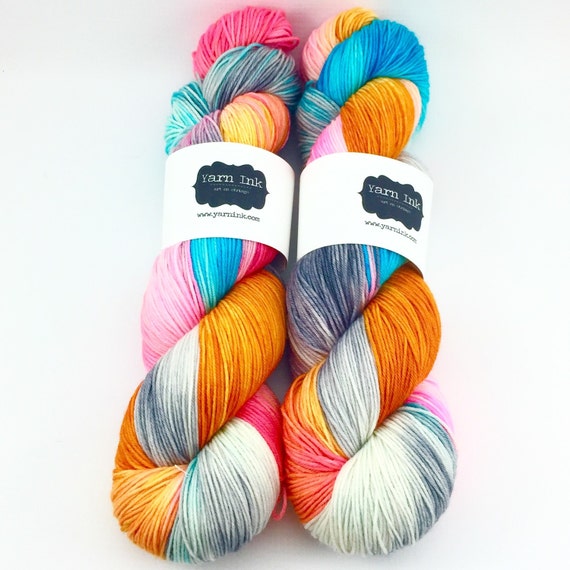 Hand Dyed Sock Fingering Yarn in "LOVE in an ELEVATOR" by Yarn Ink
This is a 4-ply sock yarn, in 75% SW Merino and 25% Nylon blend, in 100g skein and 463 yds per skein. I found Yarn Ink Etsy Shop accidentally because Etsy suggested it. Usually I don't order from vendors outside the U.S. because of shipping cost, but Yarn Ink's shipping to the US is totally reasonable.
Yarn Ink colors are so beautiful and interesting. I like how the sock yarn base is a 4-ply kind, and with plenty of nylon. Most of the photos of the colorways show both the yarn in skein and a swatch to show the colors.
So, the next WIPs,
1) the remaining sock on the stripey sock - 1 ball;
2) Marty's worsted weight vest - 5 skeins;
3) Marty's Hugo sweater - 8 skeins;
4) Marty's Christmas socks - 2 skeins;
5) My silky socks - 1 skein.